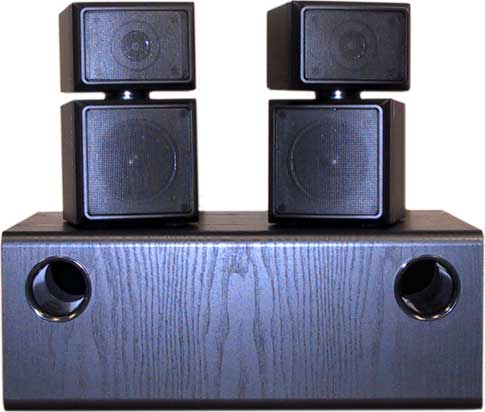 Click Here to Order the AV Acoustics AV-5 system for only $169




The AV Acoustics AV-5 System
A Subwoofer/Satellite home theater speaker system that will Blow You Away!!! only $169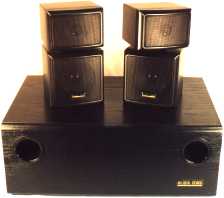 This is the kind of deal we LOVE to offer: This system was specially manufactured by AV Acoustics for distribution through insider channels to sound professionals, designed to directly compete with the similar Bose AM5 System.

DEEP, THICK BASS
We're very excited about this because several other sub/sat systems which we could offer in this price range did not sound good enough to us. Typically your less expensive "subwoofers" don't really reach down into the satisfying deep lows that you want to hear and feel from a subwoofer. In fact many would have trouble qualifying as even woofers. You know what I mean: the bass drum goes "bap bap bap" instead of "THOOMP WOOMP VOOMP". In contrast, this system alone, without any other speakers, will absolutely blow your mind!

A DESIGN BREAKTHROUGH...
The secret? An ingeniously designed, perfectly tuned, dual-driver, dual-ported, "bandpass" type subwoofer. You'll definitely have people looking around the room trying to find the "hidden speakers" as this system sounds so good it's truly difficult to believe that such full, rich, impactful sound could come from such an innocent looking set of speakers! (We just got lucky on this one folks.) Satisfaction guaranteed!

IMPROVES YOUR EXISTING SYSTEM!!!
The entire system hooks up to your regular tuner, amp, or big screen TV just as if it were a single pair of speakers: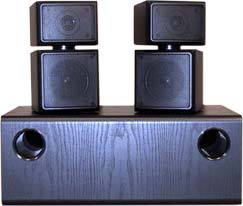 SUPER EASY SETUP - THE SUBWOOFER: (view schematic) The subwoofer has the standard, red(+) and black(-), left and right, input and output terminals (8 in all). Using regular speaker wire, you first connect the clearly labeled left and right inputs on the subwoofer to the left and right "speaker out" terminals of your amp, tuner, or TV, as you would a regular pair of speakers.
THE SATELLITE SPEAKERS CONNECT TO THE SUBWOOFER: (view schematic) Next connect the two satellite speakers to the subwoofer's left and right outputs, again using regular speaker wire.
BUILT-IN CROSSOVERS: The subwoofer utilizes high-quality built-in crossovers which extract the thundering low frequencies from each signal, passing the midrange and high-frequency portions on to the satellite speakers. These lows are pumped out the two bass ports of the subwoofer. You can place it virtually anywhere, in or out of sight, and the entire room will be filled with deep, rich, satisfying bass!

DUAL-DRIVER SATELLITE SPEAKERS SOUND BETTER!!!
Each satellite speaker is really two speakers, (a 3.25" midrange driver and a 1.25" dome tweeter) mounted in a dual-enclosure rotatable polycarbonate cabinet. They are also fitted with threaded brass mounting inserts that fit standard wall-mount swivel brackets. Place the satellite speakers on either side of the viewing/listening area to establish good stereo separation. Front or rear, it's your choice!

USE IN COMBINATION WITH OTHER SPEAKERS: This Sub/Sat speaker system is awesome alone, or can be combined with another pair of stereo speakers (may we suggest our Floorstanding Towers with Dual 6.5" Woofers) to make a complete 5 piece home theater/surround-sound system: Even a conventional stereo tuner becomes a thundering surround-sound system. Just run your left and right mains on speaker channel A, and your Subwoofer/Satellite system on channel B (or vice versa). Normal placement would be with your mains on either side of the TV, in front, with the satellite speakers providing stereo separation at the rear. The subwoofer will sound the same where ever you put it, so hide it under a table or behind a curtain if you wish! These speakers sound exceptional when used with Dolby Pro Logic, Dolby Digital, DVD, and THX type surround-sound systems.

WHAT A DEAL!!! Offered only while supplies last, we're making this system available to you right now for only $169! Add $19 for packaging, shipping, and handling, for a total, delivered to your door price of only $188!

Click here for our 2-way Satisfaction Guarantee!




AV ACOUSTICS AV-5 SUBWOOFER/SATELLITE SURROUND-SOUND
HOME THEATER SPEAKER SYSTEM SPECIFICATIONS:

SUBWOOFER:      Dual port bass reflex bandpass type
  DRIVERS:      Dual 5.25" heavy-duty subwoofer drivers                
  CABINET:      Industry-standard MDF (Sonically inert) 
                w/bonded woodgrain finish
  FINISH:       Black-ash
  DIMENSIONS:   6" high x 17" wide x 12" deep
SATELLITES:     Two-way stacked rotatable with metal grilles
  MID DRIVERS:  3.25" paper cone
  TWEETERS:     1.25" dome tweeter
  DIMENSIONS:   4.5" wide x 8.125" high x 4.25" deep
FREQUENCY:      40-20,000 Hz
IMPEDANCE:      8 ohms
TERMINALS:      Red(+) and Black(-), press-insert-release
                (use regular speaker wire)
MAXIMUM POWER:  180 watts rms 
SHIP WEIGHT:    approx. 24 lbs.
WARRANTY:       Manufacturer's 1 year, full parts and labor